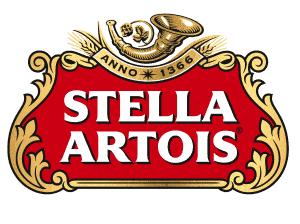 Enjoy the European way with the world's #1 best-selling Belgian beer. With its wonderful floral aroma, well-balanced malt sweetness, crisp hop bitterness, and soft dry finish, Stella Artois is the perfect beer to pair with food and friends. Serve in its signature glass chalice to enhance flavor and aroma. It brewed in Belgium. Originally brewed for the holidays.
The Stella Artois Family now includes two seasonal variants.
Stella Artois Solstice Lager is a premium golden lager triple-filtered for refreshment & smoothness. Crafted to celebrate Summer's longest day with citrus notes and a crisp, clean finish.
Stella Artois Midnight Lager is an ode to 600 years of brewing expertise in a beautifully balanced beer with subtle notes of dark chocolate, freshly brewed espresso, and a hint of smoke in the finish.